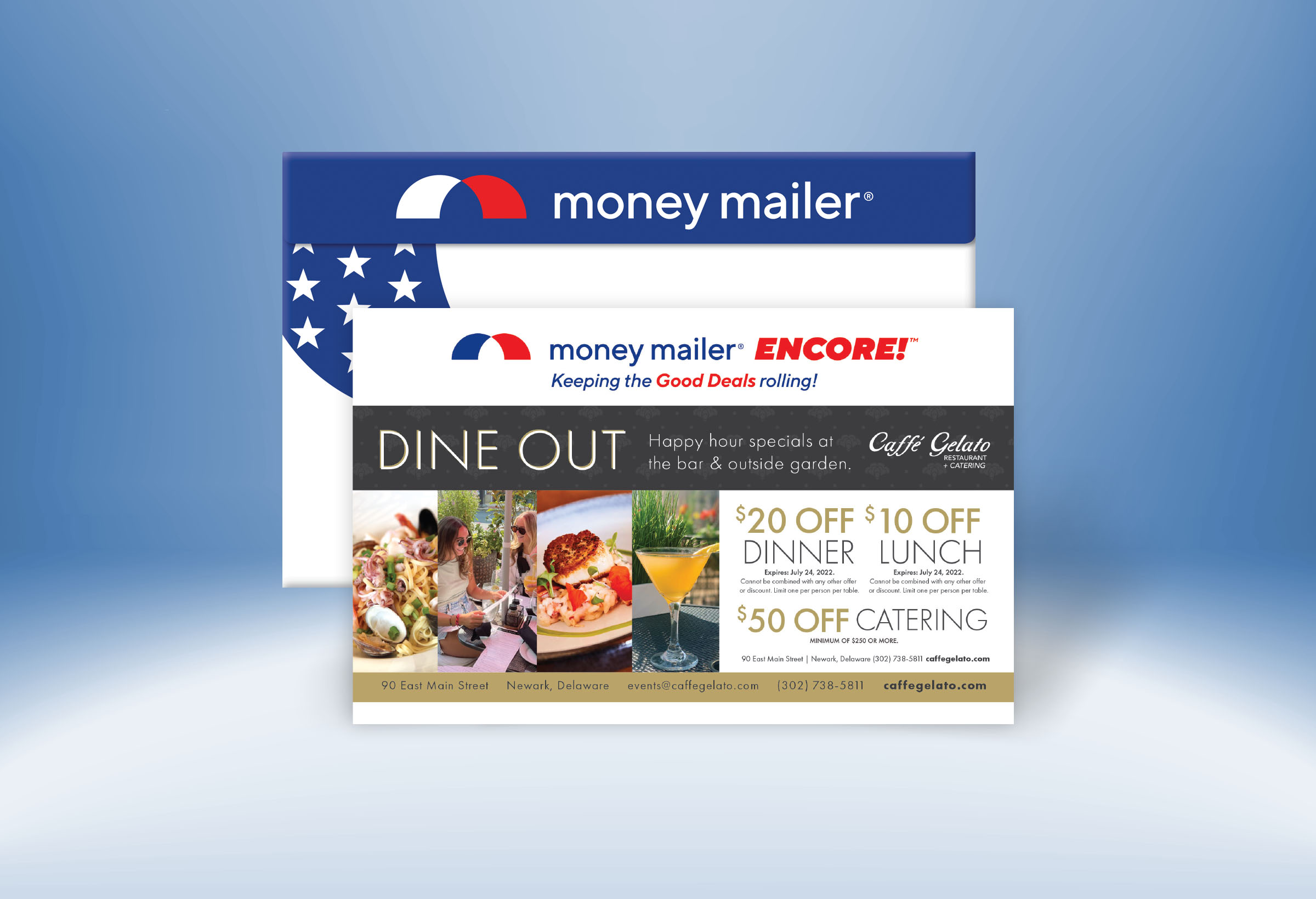 Requirements
Art intended for Money Mailer production should be created with Adobe InDesign CC. InDesign versions CS6, CS5.5, CS5, and CS4 are also accepted but not recommended.
Template Usage
Always use the official Money Mailer InDesign templates to ensure the best possible final printed product.
12-page booklet ads should be designed horizontally. All pages should be created "right-reading" meaning you should not have to turn your head to read the copy.
All booklet pages are full bleed with a required 0.125" bleed, 0.25" left/right safety margin, and 0.375" top/bottom safety margin. The extra 0.125" bleed area will be removed when the booklet is trimmed to it's final size. This allows the ad image to go all the way to the edge of the paper with no white border. Important text and logos should not be placed within the safety margins. The safety margin ensures that all critical ad elements will be visible even if there are variations in the trimming process. To see these guidelines on the Indesign template select "Show Guides" under the View > Grids & Guides submenu.
Money Mailer Encore branding on the front cover booklet templates is optional.
Front cover safety margins are 0.25" left/right/top/bottom.
Back cover will have a barcode and Money Mailer production codes in the lower right hand corner. Avoid placing important information outside of or near the bottom 0.375" safety area.
Safety margins on the inside pages are 0.375" due to the glued construction of the booklet product. Items placed outside of the safety margins risk being obscured or less visible on glued pages.
Design Notes
All artwork must be built using CMYK process color types (spot color types are not supported and should be converted to process).
Type smaller than 6 points is not recommended due to legibility with online content.
Do not use the registration color (rich black) under any circumstances. These colors may look black on your display, but contain additional colors and will not print as expected.
All non-original artwork such as photographs, logos, etc. must be licensed with legal permission for use. This may be in the form of a photo CD or online subscription license agreement, or model/property/image release form (available on the InfoCenter.) Proof of legal permission may be required at any time.
File Naming
PDF file names must be 64 characters or less in length.
PDF file names must end with the ".pdf" extension (not case sensitive).
Each PDF file must include a 2-digit page number at the beginning of the file name, such as "03_Ad Name.pdf"
PDF Exporting
Only PDF files are accepted and the official MM Full Bleed PDF Export Setting must be used to create your final PDFs for this workflow. Instructions for installing the preset are included in the download file.
PDF files should not be edited. If a change is needed, edit the native file, and then export a new PDF file.
PDF files may not be greater than 10 MB in size. Exceeding this limit is usually the result of poorly built or corrupt artwork, and may give unexpected results. Overly large PDFs can often be simplified by rasterizing complex vector components of the art.
Submitting Final Art
Registered independent artists should email properly named and exported final approved PDF files to the Money Mailer Art Center. If you are not a registered independent artist, please send your final files to the sales representative working on your account. Always carefully proof any PDF being delivered to Money Mailer production. This PDF is the sole source of reference used by Money Mailer production. Files are reviewed for technical compatibility with Money Mailer systems but not for content or accuracy.
Verifying Booklet Proofs
Since booklet pages are not uploaded in the same way as other Money Mailer products, it is not possible to verify the art on Art Status in MMO. A PDF mock-up of the booklet will be manually created and emailed to the franchisee to review and approve.